One of the recurring issues I come across on optimizing ecommerce websites, is the lack of text on category and subcategory pages. Usually, what I see on the typical category and sub-category pages of an ecommerce site is a bunch of product images, and maybe, just maybe they have some content below the images.
See "no text" example below: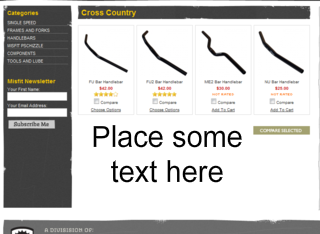 Adding more text will help the search engines determine what your page is about, and offers a great opportunity to use textlinks to build internal linking within your website.
Optimially, it's best to place the text under the H1, but above the product images. Consider redesigning your page template with content placed just below the H1 page header. Content should optimally be placed closer to the top of the document.
Although, the classic objection to this is that the text placed in that position on the page will interfere with usability, page views (engagement), and ultimately conversions.
To the rescue comes a CSS technique called, Absolute Positioning.
Consider using CSS absolute positioning to effectively move content blocks across Category & Sub-category templates. Content will appear closer to the top of the code structure, yet would appear at the bottom of the page when rendered within a browser.
The addition of more text is a way to optimize your website, increase your keyword relevancy scores, boost internal linking, and create a more engaging user experience.
Below is a powerpoint slide I created on Absolute positioning , and how it can be the solution to page layout problems.