This was an initiative to improve the organic rankings & increase website traffic for www.Shinedown.com. The band ranked well for their band name, but not for any merch terms.
Merch terms are generally like: [artist name cd], [artist name t-shirt], album, tickets, concert, tour, etc. The merch buying phrases typically have higher conversion rates since they are already far down the conversion funnel. Due to the poor ranking of these terms, Shinedown did not generate a significant amount of traffic nor revenue through this channel.
The objective of the SEO initiative was high keyword rankings & traffic.
The site was optimized during the initial build. Careful consideration of the keyword analysis was used to write the Title tags on the website. Progress was seen in the rankings a few weeks after launch. However over time, a thorough SEO Audit of the site revealed that additional changes were necessary to rank for the identified keywords. The site needed some minor onsite changes, and despite the site having a huge amount of inbound links, very little was being directed in such a way as to promote the main keywords.
Our assessment of the competitive landscape indicated that in addition to onsite page changes we needed a significant link campaign of targeted, quality links to  lift the site into the top 3 on Google to accomplish our objective of driving more traffic/revenue. A $7,500 budget was allocated for Link development.
The below spreadsheet was taken as our baseline ranking report, and subsequent rankings after the site was launched:

At this point, we've successfully accomplished the objective of high keyword rankings. On the most recent Ranking Report below (image dated July 5th), you'll see that we're ranked #1 for almost all specified phrases.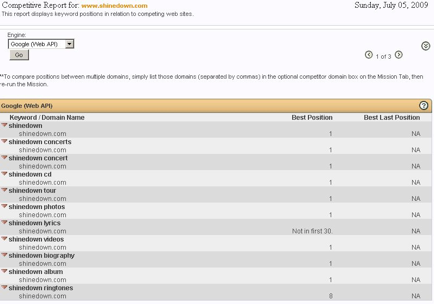 The #1 ranking has been maintained, and traffic extended to many long tail keywords.
We had surprisingly rapid movement from keywords that were previously on page 2 or 3 within the Search results pages. Over a couple of months, the #1 positions were achieved. This stayed within our estimated timeline and budget.
This findability resulted in increased website traffic as evidenced from our Web Analytics (Omniture). The chart below indicates the traffic (Visits) during the course of the campaign:


Conclusion:
The assumption is that there is a correlation between higher keyword rankings & the upward trending of site visitors. Shinedown is a band that tours continuously. It's logical to assume that people will be searching more, as they tour. But, if the artist isn't appearing in the SERP's , then the clicks will be stolen by Amazon, Ebay, music.AOL, and Google Music, and Shopping Results.
The ideal situation is to ensure the band has high rankings before a tour, release date, television appearance, etc. If an SEO initiative hasn't taken place and the band is touring, it can take as little as 30 to 60 days to accomplish high keyword rankings and increased traffic levels.